The 2023 Kia Seltos 1.6 litre turbo unit now produces 195 horsepower and it competes against the likes of the Chevrolet Trailblazer, Toyota Corolla Cross, Mazda CX-30 and Honda HR-V.
Kia unveiled the 2023 Seltos at the 2022 Los Angelos Auto Show, which gets many functional and cosmetics updates. Furthermore, a new X-Line variant will be offered in the US market. Users of the redesigned Kia Seltos have access to a new range of tech features and gain improved safety and performance.
Although it is official that the new Kia Seltos will debut in the US in the first half of 2023, a specific release date has yet to be disclosed. Pricing information is expected to be released at a later time or at the time of launch.
2023 Kia Seltos engine options and power figures
The 1.6-liter turbo and 2.0-liter engine options remain the same as before. The turbo engine, which previously had 175 horsepower, now has 195 horsepower. How much the power increase will affect acceleration and general driveability is yet to be determined.
Users that want power and performance should choose the 1.6 turbo motor. In addition, the available automatic transmission has been changed to an 8-speed model from the previous model's 7-speed dual-clutch option.
The performance figures for the 2.0-liter, 4-cylinder engine are largely the same as before. It gains just 1 horsepower, going from 146 to 147. This motor uses less gasoline and is more efficient. The 2023 Kia Seltos LX, S, and EX models come standard with it. IVT, or intelligent variable transmission, will function as before.
Also see: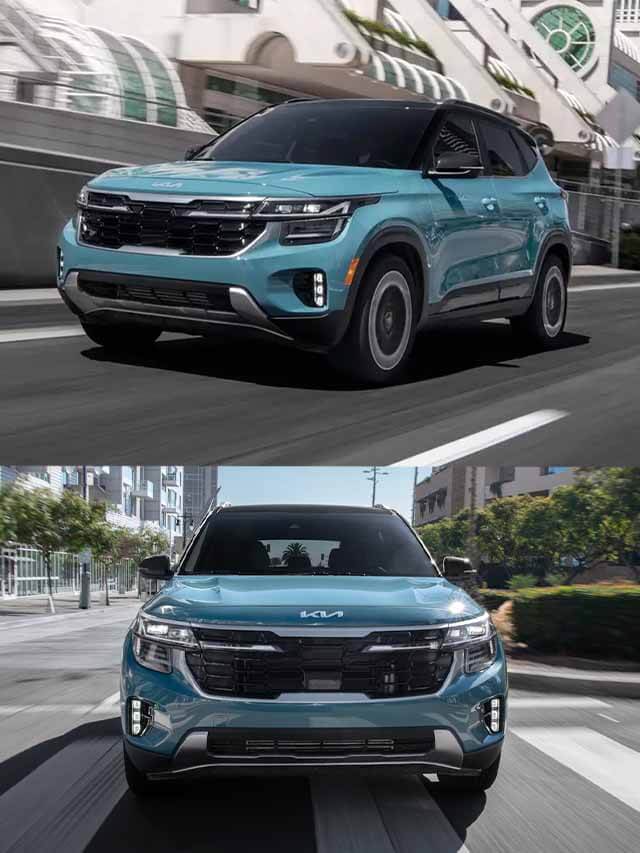 2023 Kia Seltos exterior and interior
The 2023 Kia Selto's exterior has been updated with a more prominent tiger nose grille, a new front bumper, new alloy wheels, and an integrated LED DRL and fog light assembly. A new light bar that elegantly joins the LED tail lights is added to the SUV's rear. The 2023 Kia Seltos has additional colour options in Pluton Blue, Fusion Black, and Valais Green while maintaining its basic shape.
The 2023 Seltos X-Line variant will come with a black roof rack, new 18-inch alloy wheels, X-Line badging, and a front grille finished in gunmetal. Kia offers the X-Line badge for various vehicles such the Sorento, Soul, Sportage, and Telluride in the US market.
The interior of the 2023 Kia Seltos features two 10.25-inch displays, a modernised 4.2-inch digital gauge, and two USB ports on each side. The Kia Connect app also includes a digital key feature. Driver-support technology has been enhanced in terms of safety to incorporate speed limit assistance and warning as well as blind spot collision warning.
Additionally improved, forward collision avoidance assistance now recognises cyclists and pedestrians. Lane departure warning, automated emergency braking with pedestrian detection, automatic high beams, lane centring steering, and lane departure steering assist are just a few of the driver-assist features already included with current Seltos.
2023 Kia Seltos price
The new 2023 Kia Seltos might be reasonably priced to successfully compete with rivals. The starting price for the current model is $24,135. The Chevrolet Trailblazer ($23,295) is the most affordable vehicle in its segment, followed by the Toyota Corolla Cross ($23,780), Mazda CX-30 ($24,225), and Honda HR-V ($25,045).
Also see: